TEDxHamamatsu 2017
The third TEDxHamamatsu event is going to be held welcoming 8 speakers with including a performer and as always we are not looking for "spectators" who will just watch the event but instead "participants" who would feel the experience and move it to action.
We are preparing programs for participants that would make them share their ideas and become eager to take action.
You may find a step for "Something you want to do some day" or "Something you want but cannot find the chance to do" that is inside of you at TEDxHamamatsu 2017.
Why don't we "Grab it!" together?
TEDxHamamatsu 2017: Grab it!
I found an article on the Internet last summer. It was "Ideas are worthless". Furthermore, it was Larry Page, the co-founder of Google, who said the words. He is one of the TED speakers.
He must have given his talk on the TED stage, understanding the spirit of ideas worth spreading. I watched his talk to understand why he wanted to say so.
In his talk, he never said or mean "Ideas are worthless." He said "If an idea comes upon you, do something for it, then it will soon turn out the idea is valuable or not."
TEDxHamamatsu started in 2015. The first theme was "Catch our wind, Renovate your sight" (2015) and was followed by "Fusion" (2016). I hoped the participants to find various ideas, to rediscover the attractiveness of them, and to create something new by combining them together.
As the next step, I would like you to take action this year. Everyone may have his/her own action.
I guess you might have left undone:
What you have been wishing to carry out
What you have been looking for the chance to start
What you have been thinking to do someday
You may have some reasons for not doing them. But the chances are that you chose not to.
Larry Pgae says,
When a really great dream shows up, grab it!
via: Larry Page's University of Michigan commencement address (YouTube)
"Grab it!"
What does "it" mean to you? TEDxHamamatsu 2017, "Grab it!," will explore with you to consider the ideas, to share with others, and to take actions together.
I wish the time you will spend in the TEDxHamamatsu encourage you to turn your ideas into reality.
TEDxHamamatsu Organizer Tetsuya Kawaguchi
Main Visual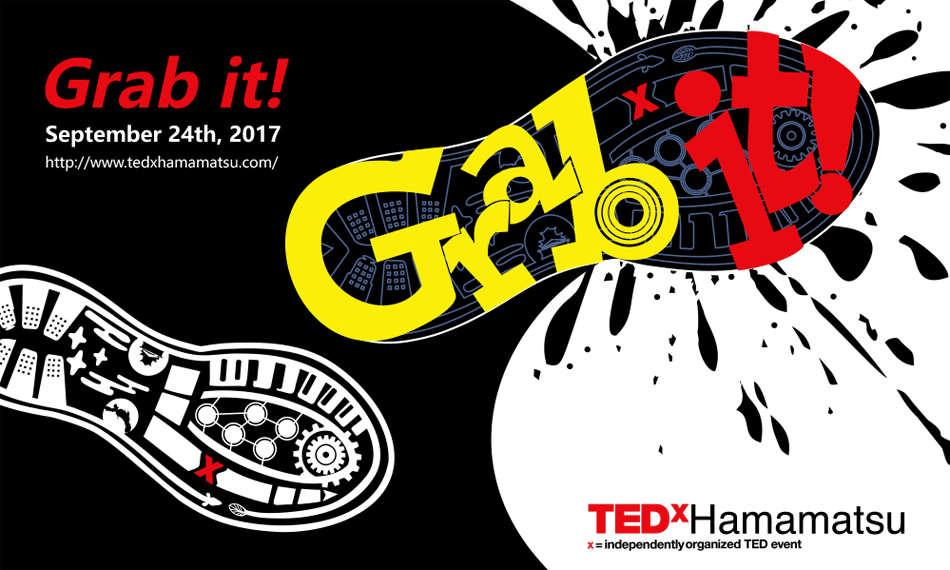 New various ideas may be also produced all over the world today. It doesn't matter whether it is great or not. You'll never know that even a small idea can lead to something or produce new values until you take action or share the influence.
So why don't you try first?
Don't you think you may grab something if you bravely take a step forward? The steps and the destinations can be many and varied. Don't forget that your one step may lead to the future.
Grab it! from here at Hamamatsu.
TEDxHamamatsu 2017 Design Team
Speakers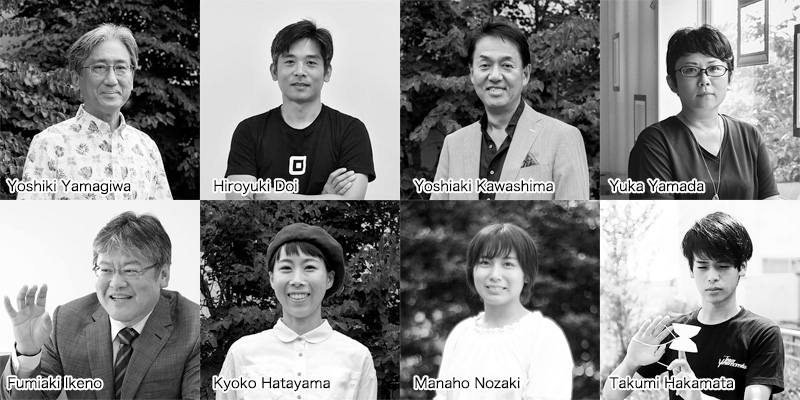 (Honorifics omitted, no particular order)
Event Information
Conference
Items
Content
Theme
Grab it!
Date
September 24, 2017
Time
11:00 – 18:30
Place
Shizuoka University of Art and Culture
http://www.suac.ac.jp/
Address
2-1-1 Chuo, Naka-ku, Hamamatsu City, Shizuoka Prefecture 430-8533
[Access]
Admission fee
Adults: ¥6,000 / Students: ¥4,000 / High-school Students: Free (Limited to 20)
(Including conference and after party)
Smoking is not allowed in the event place.
You can't enter/exit the main hall during the sessions.
Simultaneous interpretation is not provided at the sessions.
Reception starts at 11:00. Please check in before the door to the auditorium is closed at 13:25.
We don't provide lunch. Instead, a gourmet map of some restaurants and cafes around the event place will be provided by the day before the event.
TEDxHamamatsu program includes the Conference and After Party. Kindly join the whole event. Please note the admission fee is the same even if you leave in the middle of the conference or do not take part in the after party.
After Party
Smoking is not allowed at the party.
Time Table
| Time | Content |
| --- | --- |
| 11:00 | Check In |
| 13:00 – 13:25 | Doors Open |
| 13:30 – 14:50 | Session 1 |
| 14:50 – 15:50 | Break 1 |
| 15:50 – 16:50 | Session 2 |
| 16:50 – 17:20 | Break 2 |
| 17:20 – 18:30 | Session 3 |
| 19:00 | After Party Open |
| 19:30 – 21:30 | After Party |
Application
Item
Contents
Application period
1st August – 17 September, 2017
Qualification
Everyone can apply. Students are also welcomed.
High-school students can also apply to the free invitation program.
Number to be accepted
200
How to apply
Closed on 17 September.
Payment by Peatix is required for applicants at TEDxHamamatsu.
Creating an account is necessary for new Peatix users.
No selection will be made this year, so application will be done when you pay the fee by Peatix.
High school students Free Invitation Program
We prepared "Free Invitation Program" for high-school students.
Please look at the special page of our website if you are a high-school student or parents who are thinking of joining to TEDxHamamatsu 2017.
| Items | Content |
| --- | --- |
| Target | High-school students |
| Number of Application | 20 |
| How to Apply | Closed on 10 September. |
* Parents agreement is required for student application.
Access
To Hamamatsu Station
Take Tokaido Shinkansen.
90min from Tokyo/ 83min from Shinagawa/ 21min from Shizuoka/ 32min from Nagoya/ 85min from Shin Osaka
(Not including Transit time)
From Hamamatsu Station to the event place
To go to Shizuoka University of Art and Culture, please take the buses shown below.
Entetsu bus (operated approximately every 10min)
Take the bus at Hamamatsu station north bus terminal, platform 10, and get off at "Shizuoka University of Art and Culture (Bunka geijutsu daigaku)" bus stop.
Notice: Don't take the route 70's bus. It doesn't stop at "Shizuoka University of Art and Culture" bus stop.
Community bus "Ku.ru.ru" (operated approximately every 30min)
Take the bus at Hamamatsu station north bus terminal, platform 12, and get off at "Shizuoka University of Art and Culture (Bun-gei dai)" bus stop.