TEDxHamamatsuSalon vol.8
TEDxHamamatsu holds a smaller, easy-to-join event, TEDxHamamatsuSalon, several times a year to concentrate on community activities. We hope that through the small group and lively communicative atmosphere of the Salon events, participants will better understand our activities and the attractiveness of TED and TEDx.
Theme: Take in External Diversity
Hamamatsu is a local city in which people from various countries live. "Food culture" exists where people live. We would like to share, deepen, think, and spread the open-minded and interesting ideas with regards to food culture through watching some TED talks on diversities of foods and food culture.
And then we will eat dishes from several countries together.
I hope that this TEDxHamamatsuSalon event is something which makes you think of the connections with various food cultures in your daily life.
TEDxHamamatsu Organizer, Tetsuya Kawaguchi
Main Visual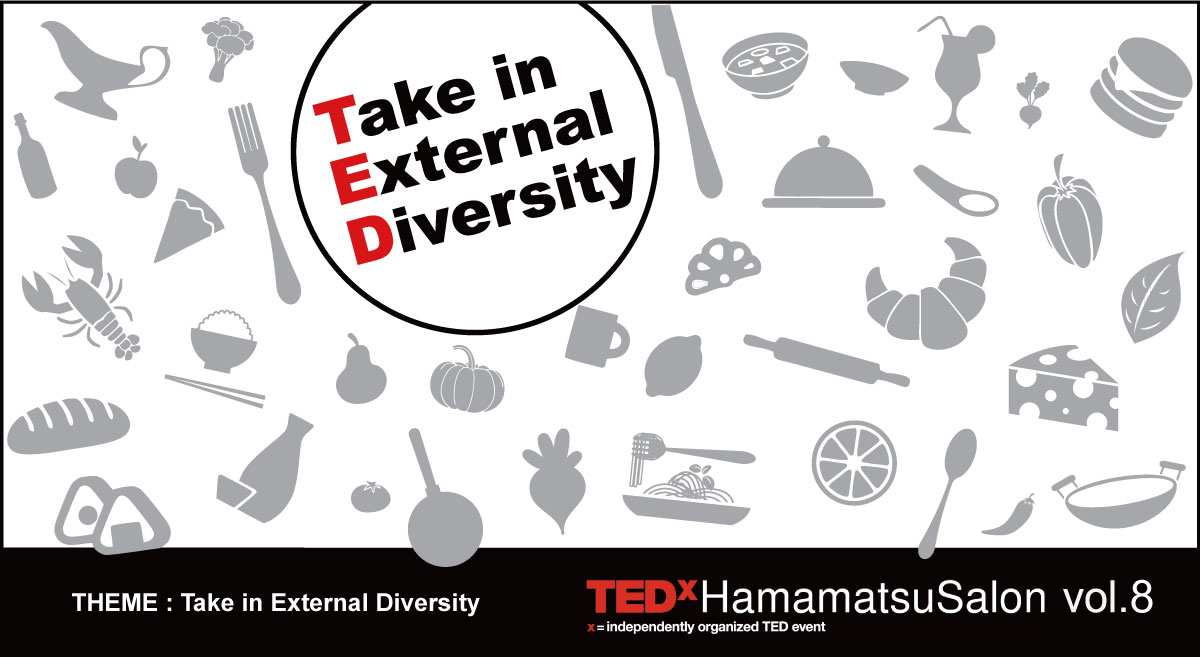 To live is to eat. From babies to adults, everybody eats to live. Animals, fish, and even insects do the same. However, unfortunately not every child can eat enough to grow up when you look at the world as a whole. Both an abundance of food and extreme malnutrition coexist in this world.
We have designed the artwork for Salon vol.8 from silhouettes of food and food-related tools, hoping that it helps you think of your connections with food.
When it comes to food, happiness and problems seem to be intermingled.
We hope TEDxHamamatsuSalon vol.8 will provide you with an opportunity to think that 'to live is to eat' and help you recognize food-related matters in your everyday life.
TEDxHamamatsu, Design Team
Event Details
Item
Content
Date
June 2, 2018 / 13:00 – 19:30
Place
Sala Plaza Sanarudai, Shoku-labo
1-11-5 Naka-ku Hamamatsu-shi, Shizuoka 432-8021
[Google Map]
Fee
Free
Application
See "Participant Application".
Access

Get on a No. 9 bus at platform 3 of the Hamamatsu Station Bus Terminal, get off at the "Sanarudai Sakashita" stop and walk for 5 minutes along the Orange Street to the south.
Get on a No. 20 bus at platform 5 of the Hamamatsu Station Bus Terminal, get off at the "Nishi Yubinkyoku" stop and walk for 10 minutes along the Orange Street to the north.
This event includes an after party. Please refrain from joining only the sessions or after party.
Time Table
Time
Content
13:00-13:30
Check-in
13:30-14:00
Opening
14:00-15:30
Session 1
15:30-16:00
Break
16:00-17:00
Session 2
17:00-17:30
Closing
17:30-19:30
After party
Enjoy meals from various countries such as India and Asian communities. Some cooks are from those countries!
Application
Item
Content
Application period
Until 27 May, 2018
Number to be accepted
30
Qualification
Anyone
How to apply
Please fill in the application form.
TEDxHamamatsuSalon vol.8 Application form
Selection
We will make a selection in the case applications exceeds the limit.
Selection result
Results will be sent on 28 May, 2018 via email.
Others
We will take photos at the event and upload them to the internet. Please keep in mind that there is a possibility your face or some parts of your body will be shown in the photos.
Related Links
What is TEDxHamamatsuSalon ?
TEDxSalon is a licensed event with permission from TED headquarters, which purpose is to unite the community born from the TEDx events. Particpants can watch, appreciate and discuss selected TED talks and see presentations from speakers.
At this year's TEDxHamamatsuSalon vol.8, we will watch selected TED talks, discuss and do activities, instead of inviting speakers. After the sessions, we will hold an afterparty where participants can enjoy encountering various people and ideas over food and drinks.