TEDxHamamatsu 2016
TEDxHamamatsu 2016 has finished.
TEDxHamamatsu2016: FUSION
Our town Hamamatsu is often called "Manufacturing town".
The ratio of workers for manufacturing industries (so called "the secondary industry") is 34.4%, which is highest among the ordinance-designated cities which average ratio is 23.3%. You can see how high this rate is.
Even though Hamamatsu is an ordinance-designated city, it can be called a "corporate town". There are a lot of small and medium-sized enterprises exerting themselves in the supply chains leaded by large enterprises.
I have been thinking if it can be possible to spread new "worth spreading ideas" of such small and medium-sized enterprises from Hamamatsu city.
To begin with, however, think the followings:
Don't you make yourself stereotyped because your company is small or medium sized?
Don't you make yourself stereotyped because they are large enterprises?
Don't you know something similar cases around you?
Categorized frames may be everywhere, such as blue-collar and white-collar workers, citizens and the administration, customers and shops, subordinates and superiors, students and teachers, wives and husbands, children and parents. We might have communicated with people inside the frames without realizing it.
Why don't you remove the frames and face each other?
Why don't you exchange your ideas and deepen them by communicating with people whom you have never met nor faced?
With our ideas, we've decided the theme of this year "FUSION".
The ideas may go different directions and each one may be small and weak… But, what if you change the direction of your idea and close to others'? Ideas which are in different frames or have no chance to meet would. I believe that the "FUSION" makes the ideas stronger, more wonderful and larger.
TEDxHamamatsu 2016 should be the opportunity where you all exchange your ideas.
We'd like to share such excitement with you. We wish your idea becomes new large one.
TEDxHamamatsu Organizer Tetsuya Kawaguchi
Fusional Experience with You
"FUSION" is the theme this year.
We TEDxHamamatsu hope that fusing different ideas would make stronger, more wonderful, and bigger idea.
To realize that, we believe that making "unpredictable encounter" and "mixing ideas" are the way among people, who are not only participants but also speakers, partners, and staff. In addition, we think it is necessary for all of us to face with ourselves, and to realize and concentrate on our own ideas, with leaping the frame of "ourselves".
TEDxHamamatsu will provide you the opportunities to meet the ideas and others through many activities on the event day. We hope it would be a chance to make your idea bigger and change your life better.
TEDxHamamatsu 2016 Participant Team
Message of Main Visual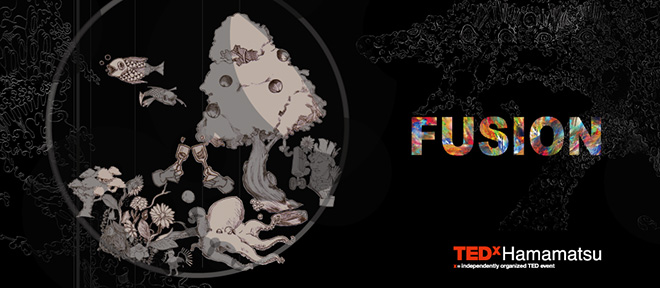 Everything that has life, not only human beings, but also animals, birds, marine organisms, plants, insects, bacteria, etc., lives everyday life hard. Furthermore, of course, clocks, things that are given their lives such as windup dolls and robots, and virtual world such as animation and games…
Things that are living their lives hard encounter, notice, and interact each other, then new values will be created or dreams for the future will be cherished… We wish TEDxHamamatsu2016 conference to be an opportunity of "FUSION" which makes you feel such power and temperature.
TEDxHamamatsu 2016 Design Team
Speakers
Bret Mayer
(Kanji Educationist / Language and Culture Specialist)
Stela Suzuki
(First Principal of Hamamatsu International School / Student of Modern Communication Department at Hamamatsu Gakuin University)
Makoto Sato
(Social entrepreneurs / Nurse / Representative director of PEER Co., Ltd.)
Takahiko Hariyama
(Professor of Medical Faculty at Hamamatsu University School of Medicine)
Masahiko Sugiyama
(Photographer / Japanimation photographer / Owner of Photo Studio Peace)
Keita Sato
(Rio de Janeiro Paralympics Track and Field Japan Representative)
All talks are presented in Japanese. Simultaneous interpretation is not provided.
TEDxHamamatsu 2016 Event Information
Items
Contents
Theme
FUSION
Date
September 25, 2016
Time
Opening / Reception: 11:00 –
Conference: 13:00 – 18:30
After Party: 19:00 – 21:30
Timetable
Place
Shizuoka University of Art and Culture
Address
2-1-1 Chuo, Naka-ku, Hamamatsu City, Shizuoka Prefecture 430-8533
Access
Admission fee
Adults: ¥6,000/ Students: ¥4,000
(Including conference and after party)
*Payment method will be announced after confirming your participation.
Smoking is not allowed in the event place.
You can't enter/exit the main hall during the sessions.
Simultaneous interpretation is not provided at the sessions.
Please make the reception between 11:00 and 13:00.
Time Table
Time
Contents
11:00 –
Check In, Doors Open / Lunch & Warming-Up Time
*We don't provide lunch.
13:00
Main Stage Start
13:30 – 14:40
Session 1
14:40 – 15:40
Break 1
15:40 – 16:40
Session 2
16:40 – 17:00
Break 2
17:00 – 18:30
Session 3
19:00
After Party Open
19:30 – 21:30
After Party
After Party
Smoking is not allowed at the party.
Activity
We prepare an activity program before starting TEDx conference!
As reception starts at 11:00, you have free time before opening main hall. Please make the reception between 11:00 and 13:00. We don&'t provide lunch. Instead, a gourmet map of some restaurants and cafes around the event place will be provided by the day before the event. Please enjoy this gourmet map, too.
We hope this event will be a good opportunity for you to know about TEDxHamamatsu and Hamamatsu city and to have a good time.
We also have other activities during the break time. Enjoy the TEDx event that you can&'t feel with just watching Youtube TEDx videos.
More information will be announced soon.
Application
| Items | Contents |
| --- | --- |
| Application period | 1 August, 2016 – 11 September, 2016 |
| Qualification | Everyone can apply. Students are also welcomed. |
| Number to be accepted | 200 |
| How to apply | Application has been closed. |
| Selection | We make selection with the application forms. |
| Selection result | We will notice the selection result by 13 September, 2016 by an e-mail. |
| Other notices | We will take photos and videos at the event and upload on the web. Please remind the possibility that your face or some parts of your body will be shown in the uploaded photos or videos. |
Application is not finished just sending pre-registration form.
Please fill in the registration form which will be sent in the replied e-mail after completing pre-registration.
When you fill in your e-mail address in pre-registration form, make sure that it can receive from e-mails from PCs.
Access
To Hamamatsu Station
Take Tokaido Shinkansen.
90min from Tokyo/ 83min from Shinagawa/ 21min from Shizuoka/ 32min from Nagoya/ 85min from Shin Osaka
(Not including Transit time)
From Hamamatsu Station to the event place
To go to Shizuoka University of Art and Culture, please take the buses shown below.
Entetsu bus (operated approximately every 10min)
Take the bus at Hamamatsu station north bus terminal, platform 10, and get off at "Shizuoka University of Art and Culture (Bunka geijutsu daigaku)" bus stop.
Notice: Don't take the route 70's bus. It doesn't stop at "Shizuoka University of Art and Culture" bus stop.
Community bus "Ku.ru.ru" (operated approximately every 20min)
Take the bus at Hamamatsu station north bus terminal, platform 12, and get off at "Shizuoka University of Art and Culture (Bun-gei dai)" bus stop.